This page is about the show. You may be looking for the school of the same name.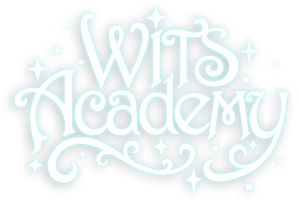 W.I.T.s Academy
 is an American teen sitcom.
[1]
The first and only season had 20 episodes.
The series is created by Catharina Ledeboer and is produced by Viacom International. The show is executive produced by Tatiana Rodriguez.
It was officially canceled by Nickelodeon on March 23, 2016.
Plot
The show is a daily strip spin-off from the hit show Every Witch Way. In this new series, teenage Guardians will oversee young witches and wizards in training at a magical academy. There, the Guardians will have to decide who is friend, and who is foe.
Now a Guardian in training at WITS Academy, the Magic Realm's most esteemed school for witches and wizards in training, it seems like Andi's dream has finally come true. But as the best friend and unofficial Guardian to the Chosen One, she'll have to work hard to prove that she can live up to expectations as the first (and only) human Guardian. Plus, she's in charge of getting the Magical Realm's toughest witch and wizard to graduation day, one of which is Jax's little sister Jessie! Along the way, she'll have to decide who is a friend, who is a foe and who may be more.[2]
Cast
Main Cast
Recurring Characters
Trivia
It premiered on October 5, 2015, and finished it's run on October 30, 2015.
Kennedy Slocum said in an interview, regarding the show airing the entire first season in one month instead of weekly, that it took 3 months to film.
There is no summarising episode in the show, whereas, in Every Witch Way, there was one every season.
External Links
References
Community content is available under
CC-BY-SA
unless otherwise noted.