Welcome to the Page of Spells! This page lists the spells used in the Series!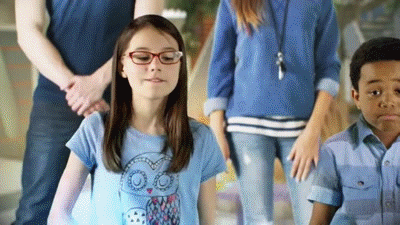 Season 1
This girl's as cold as a blizzard, I think she'd like a lizard.
Your pillow now has scales. Watch out for these tails.
From the depths of the Abyss, to the edges of the Realm, open a whirlwind into the future I will not overwhelm.
Andi and her WITS will be shocked, when they find out this door is locked.
From the depths of the Abyss, to the edges of the Realm, open a window I will not overwhelm.
I think my only hope is a long length of rope.
I hear a loud roar, open the locked door.
I started it, so here it will end. Close the vortex and the wall will mend!
The animals must prevail, show me something with a tail.
Cameron don't fear, we're gonna make you disappear.
From the depth of the Abyss to the edges of the realm, open a window into the future I will not overwhelm.
Lift this block high, safely towards the sky.
Floating high is so sweet, but let's bring it to our feet.
Now that Ben's head has protection, we can move these blocks to perfection.
Now that my head has protection, we can move these blocks to perfection.
There are three I's in irritating, no I's in fun. There's Ben in a block house, see ya later, I'm done.
Andi is lame, but I'm having a blast, she can't catch me yet, so make me super fast.
Andi is getting close, I have to flee, make everyone in here dress like me.
This is fun and good, but we want more. Take that cake away for jinx galore.
I'm new to this, so let's start small, hang a picture on the wall.
This chaos shows a little petti, so let it rain confetti.
I aimed for the cake but Ruby got hit, bring her back before she has a fit.
Andi's acting like a brat, turn her into a rat!
Have no fear, I'll direct him from here.
Ben got hurt in Andi's training!, heal it now so he'll stop complaining.
This book has escaped us long enough, catch it in the light so it's not tough.
This is what you get for causing us trouble, now it's time to shrink that bubble.
Create a perfect hiding place, inside this metal suitcase.
This needs to end before I fall, stick this book to the wall.
This is really gonna be something, build me a pyramid while I'm jumping.
Build these bottles way up high, while I jump into the sky.
Let's make it a swish, with this basketball wish.
Time to make this block rise, right before our very eyes.
Inside this cabinet is a spell we need, so open it up with incredible speed.
Lift these blocks with tender care, push them safely into the air.
Now by using my control, we can accomplish our goal.
Take this to the top of the tower, lots and lots of power.
With double the pow, open this now!
We can't stand here for days and days, let's reach through the door by using a phase.
These two have gone through switcherooe, switch them back so we know who's who!
Cameron will be shocked, when he finds out this door is locked.
We really need to sneak out, so a little fog should hide our route.
Reverse this locking spell, so we can bid Cameron farewell.
Clean this up to cover our tracks, totally hiding all the facts.
Hey guys never fear, all the leaves will disappear.
Now that I have magic powers, let's rock my desk with flowers.
We're tired of waiting in line, give us food so we can dine.
Using magic to get food is valid, right now I want my salad.
This recruiter thinks she's a special new commer, make her arms turn to rubber.
I can not stand the heat, pour me a lemonade and make it sweet.
No I don't have any power, I was just back here looking for flower.
These two think they make good a team, sticky strings will make them scream.
Think that's funny try this on for size, make that fountain spit a muddy surprise.
Emily is cozy and ready to dream, fill her bed with sticky cream.
The new me is no more, make me look like I was before.
My table is still out of whack, take this chair and turn it back.
This snake is angry and grotesque, turn it back into my desk.
Into my hands, but a ball called foot.
This is gonna be a snap, make a bridge to cross this gap.
This liquid might leave scar, let's cross it with monkey bar.
Ruby being strong, has gone on way too long.
I'll be free and clear, once I teletransport out of here.
I have to go now, make it fast and how.
I really really believe, that right now I have to leave.
The way to escape the halls, is with a bunch of footballs.
I don't want to break anything more, show this cursed strength the door.
This has gone on way too long, I really don't want to be this strong.
I don't want anyone to know, let the gloves hide the glow.
Emily thinks she's so cute, let's put her mouth on mute.
Check me out girl, watch my magic swirl.
Clumsy Andi will fail this test, make her finish behind the rest.
Our enemies don't wish us well, so foil their plan and reverse this spell.
Foil our spike with music traps, let this one blow some scraps.
These flames will melt our feet, let ice melt this heat.
Time will soon expire, give us the rope to cross the fire.
For Luke to stand a chance, he has to use romance.
This is getting really rough, make that torrent super tough.
Luke wants to make Andi grin, so give her a surprise engine.
Romance got him into trouble, turn Luke normal on the double.
My teacher wants us to play, let my skills blow him away.
I face my enemy without fear, let her face the tip of my spear.
Leave my enemy distraught, let these fireballs burn hot!
Andi's been a thorn in my side, make her docile and enjoy the ride.
Journals, journals, pink and blue. One for me and two for you!
Undo this spell and end the show, give us back the Ruby we know.
Some wicked glue was put to use, let this amulet come loose.
Some wicked glue was put to use, let this amulet come lose.
Your powers have been denied, in Limbo you shall dwell, gone are your treasures and your pride, in a Final Banishment spell!
The health of this tree effects us all, protect its roots with an unbreakable wall.
We need to get inside to see, the damage done to the tree.
Show me the past so I can tell, why the tree is not so well.
Exile this one if you may, send her very far away.
This photo should do the trick, now replicate what's in this pic!
We want to win first prize, let stars blind his eyes!
Pull the clouds from the skies, make it thick to block Luke's eyes.
Sean's spell could use a charge, now make his cloud extra large.
A map of the Magic Realm and the human world would be quite handy, now give us the location of our friend, Andi.
With Cameron sleeping through the night, he will not get up until the first light.
Help this gadget in a snap, find Andi's beacon on the map.
Now that Andi is found, bring her back safe and sound!
Wonky Andi cannot stay, forever send her away!
Make the portal open it wide, pull Andi through back to this side.
The portal is open but it needs to be stronger, let me help Gracie and Sean hold it longer.
There is tree sap in this room, show us where so we can save Andi from doom.
I have something to find, go to the place on my mind.
This place is spooky and grim, now take me back to the gym.
I need to make this barrier weak, so safely out Ethan can sneak.
We're lame at karate but we need to be good, give us cinder blocks and some pieces of wood.
Make us invisible so we can sneak, into the gym and take a peek.
Mimic the one who rules the school, and all the students you will fool.
It's been a very long day for you and me, so change Cameron back so we can be free.
This magic cube will be no trouble once we destroy it with our bubble.
For the final blow, karate chop these throw.
They can't hit us back if they can't rhyme an attack.
It's time to set them free, bring our friends back from the root of the tree.
Our enemies are near by, send magic arrows to fly.
It's time to hit the wind, let's pull them in.
Community content is available under
CC-BY-SA
unless otherwise noted.