"
"We shall forever be guardians."
"
Leopold Archer

General
Nickname(s)

Uncle Leo (by Luke)
Leo (by everyone)

Gender

Male

Birthdate

N/A

Resides In

Miami, Florida

Occupation

Guardian of the Principal (formerly)
Protector of the Magic Realm
FRU Agent (currently)

School

W.I.T.s Academy (formerly)

Relationships
Siblings

N/A

Others

Luke Archer (Nephew)
Agamemnon (Fellow Colleague/Friend)
Andi Cruz (Friend)
Malas Manos (Enemy)
Cameron Masters (Friend)
Lily (Possible Daughter/Niece)

Appearance
Hair Color

Black

Production
Season(s)
First Seen
Last Seen
Portrayed By
Leopold Archer was a recurring character in W.I.T.s Academy. He made his debut on Who's My WIT?; Episode 10; to take down an evil crook hiding in the Academy. He is also revealed to be Luke's Uncle.
Leopold was portrayed by Michael St. Pierre.
History
Leopold was finally revealed to Agamemnon in Witch Hunt and introduced to the students. He reunited with Luke, learning about Andi's want to be the Chosen One's guardian in the process. He was looking for the fugitive who escaped from Limbo. He left the academy in The Witch's Bottle to go looking for more witch's bottles.
Characteristics
Appearance
He has brown hair and brown eyes. He usually wears a black coat with a black shirt and pants.
Relationships
Nephew
Luke is his nephew, and he is Luke's uncle. Luke looks up to him the most out of all his family. Leo wants him to succeed and become Emma Alonso's guardian, though he is a bit too hard on him.
Lily
Possible daughter/Niece
It's currently unclear if Lily, his nephew's cousin, is his daughter or how she is related to him.
Fellow Colleague/Friend
He is a good friend of his, and vice versa. They both care about the Dyad Tree and the safety of the Magic Realm. They both assisted in capturing Malas Manos. Then they both assistant in a healing ceremony for the tree.
Friend/New Partner in Crime
She is a friend of his and helped Leopold protect the Magic Realm. When Andi first met him,she was eager to help him find the fugitive who escaped Limbo. After that they saw that the tree was in very bad conditions and helped him assistant in a healing ceremony. Then they get sent very far away where witches hunt. While there they help each other finally get out.Leo gives Andi a guardian's tool for a gift.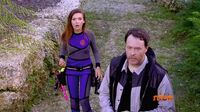 Trivia
Gallery
The image gallery for Leopold Archer may be viewed here.
Community content is available under
CC-BY-SA
unless otherwise noted.