Landi

General Information
Nickname
Landi
Anduke
Lukandi
Intimacy Level
Dating
Close Friends
Rivals
Started Dating
It Must Be Magic - Present
Landi was the romantic/rivalry/friendship pairing between Guardians Andi Cruz and Luke Archer.
Landi Moments
They first meet when Luke stops her from sitting on the bench in the Atrium, saying it's taken by him.
She agrees, but he retorts saying he doesn't she her name on it. She snaps at him and says she doesn't see his butt on it.
He calls her cute and feisty, which she seems to take offense to.
When she says she just got here, he makes a snarky comment about her being a year behind.
When Luke tells his team that their names will look great at the top of the board, Andi tells him it would, under her team's names.
Luke jokingly calls her team Team So Lame-O.
She, angry, calls him Preppy for the first time.
Luke tells her about his family's legacy of being guardians to every Chosen One.
They formally meet and realize they both want to become the Chosen One's guardian.
Luke tell Andi that him and Lily are cousins.
Luke tells Andi that she gave a nice speech and hope that it helps.
He also tells her that people are still whispering because they are still thinking that Andi is a jinx.
Luke doesn't say or believe that Andi is a jinx.
Luke teases Andi about her WITS.
Andi tells him to drop the attitude, cover the zit on his forehead, and hold her smothie while they go train.
And also tells him to stop stealing Ben.
Andi brings her WITS outside to pratice to use some of Luke's techniques.
Andi admits that her team can learn soomething from him.
Andi tells them to keep going with their training, not wanting to stop them.
Luke insists it's fine, saying they warm up before practicing.
Andi  says her team does to, and Jessie and Ben go along with it.
Andi's team copies Luke's team's moves.
Andi insist they try the handstand, hich causes Ben to hurt his wrist.
Andi tells Luke that Ben is fine when he comes over.
Luke feels responsible about what happened to Ben.
Luke finds Andi at the tree and asks how he is, and Andi says Ben's a tough kid.
Luke goes to Andi apologizing about Ben's wrist.
Andi says it's her reponsibility, since Ben is her WIT.
He tells her that she is tough, but she doesn't have to be tough all the time for him.
Luke tells Andi that he doesn't want to win when she is disqualified.
She tells him back that he already has won like that.
Luke tells Andi that her plan of getting Jessie's powers back backfired.
Andi convinces Luke to use one of his spell amplifier chargers to help Ruby's wits.
Luke looks at Andi before leaving the Training Room.
Luke helps Andi when Coach Foiler tries to cast a spell on her.
Luke invites Andi to train outside the academy.
They realized they're late for curfew and are locked out of the academy. Andi realizes that they're both afraid of the dark
Luke suggests creating a fire to stay warm.
It is revealed that they both have a fear of the dark.
They get scared after hearing something in the bushes, but it is just an armadillo.
He apologized for overeating.
They hear a roar and yell in unison.
Luke and Andi hug out of fear before being transported into Agamemnon's office.
They both get detention in the library for breaking curfew.
Luke and Andi train in the library together.
Andi again says she will break his family's legacy when he again tells her about it.
Andi is shocked to find out his uncle was guardian to the Principal.
Luke is nervous when talking to Andi and prepares what to say to her.
Luke offers to carry Andi's books, buy her a lemonade, and walk her to her dorm.
Luke tells Andi that they should go out for lunch sometime.
Andi declines, saying she already ate, and escorts him out.
Luke tries again to ask Andi out, but she invited him for smoothies with Jessie and Ben.
After seeing the guardian tool that will be rewarded to the winner, Andi remarks that it's too much bling for Luke, and retorts by saying he could pull it off.
Luke seems worried when they call her name and she's no where to be found.
Luke tells her his training must have paid off and congratulates her on winning the race and beating the academy record.
He think she runs to hug him but is disappointed to see she hugged Jessie and Ben.
Andi confesses that she use the Hex to reverse the spell Ruby put on her before the final.
Luke is intrigued that Andi would tell him the truth.
He smiles after Andi tells him the truth about the Fitness Final.
Luke asks Andi on a date.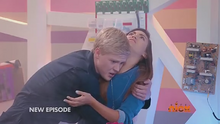 Andi (at first) thinks he's joking, but he insists he's serious.
She tells him they're not "go out material", as she thinks of him like an irritating cousin at Thanksgiving who eats all the paste.
After Andi turns him down, he vows that she will go out with him.
The next day, they share an awkward look.
Luke tries various things to woo Andi while under a spell.

Luke puts flowers all over her bed.
He dresses in coveralls and tries to fix an engine.
Luke attempts to sing to Andi by playing a song on the guitar.

Andi realizes that Luke is trying to woo her.
When Luke brings her food, she takes it and slams the door in his face.
Andi hides from Luke under the table, thinking he is still tring to woo her.
Luke tries to explain that he was under a spell, but gets sidetracked after seeing his uncle.
Luke again tries to explain his weird behavior but is interrupted by both Emily and his uncle.
Andi finally meets Luke's uncle.
Luke calls Andi his "friend."
He brags about her breaking the obstacle course record because he helped her train.
It is revealed that she believes Luke asking her out is part of a game.
Andi finds out that Luke was put under a spell by Gracie and Sean.
Andi finds out that Luke genuinely really likes her.
Before shield testing, Andi walk up to him and makes fun of his shield.
Luke is surprised she is talking to him again.
She tells him he surprised her when he asked her out.
Andi says yes to going out with Luke.
Luke is shocked that Andi decided to go on a date with him.
They begin to smile at each other.
Luke asks if he'll see her later and asks to meet him at 4 o'clock under the tree. She says she'll be there.
Not able to stop smiling at Andi, Cameron has to pull him into the gym.
During testing Luke is sidetracked explaining his shield after Andi says yes to going on a date with him.
Andi decides to wear something special when meeting Luke by the Dyad tree.
Luke is upset that he misses meeting Andi after his uncle forces him to work on his shield as a priority.
Andi now belives Luke stood her up intentionally.
Luke tries to apologize to Andi.
Andi ignores Luke.
Luke again tries to explain why he didn't show up last night.
Andi tells him they should be focusing on their training anyway.
Luke tells Andi that she doesn't understand the pressure he's under to be the guardian to the Chosen One.
Andi tells him to stop worrying about what everyone else wants you to be, and that the only pressure he should be under is to be himself.
Luke tells his uncle that he and Andi "aren't anything more than friends."
Luke seemed uncomfortable calling Andi his friend.
Andi introduced Emma as Felicia to Luke.
Andi and Luke "insult" each other in the library with Emma.
Luke and Andi help heal the Dyad Tree.
Luke looks at Andi after the healing ceremony while Andi and Emma hug.
Emma tells Andi she is aware of her and Luke mutual feelings for each other.
Luke talks to Wonky Andi.
Luke opens up his feelings toward Wonky Andi.
He believed Andi ran to Ruby intentionally, not wanting to talk to him. However, it was Wonky Andi, who likes Ruby's "shiny hair."
Luke helps join a search party for Andi.
Luke is worried about Andi safety.
Luke is relieved that Wonky Andi wasn't the real Andi.
Andi learns that it was Leopold's fault Luke stood her up.
Luke helps rescues Andi from the Bad Realm.
Luke and Andi immediately hug after she's rescued.
Andi thanks Luke for everything.
Luke tells her, "I'm Just Glad Your Okay."
Luke becomes more protective of Andi.
Luke is angry with what Ruby did to Andi.
Luke says that Andi has a beautiful smile.
Luke helps prove Andi is innocent.
Luke tells Andi that he is always there for her.
Andi thanks Luke for his help in saving her from the Bad Realm and helping her prove she was innocent.
Luke is happy that Andi isn't expelled.
Luke knows that Andi would never hurt the Dyad Tree.
Ruby refers to Andi as Luke's girlfriend.
Luke defends Andi from Ruby by promising to her that she will be the first one out.
Andi and Luke fist bump for a "fair" game.
Luke tells Andi that he never wanted to cancel their date.
Luke opens up to Andi and says "I'm being real".
Luke is impressed that Andi won the Melee.
Andi insists that she goes inside the tree since she doesn't want Luke to get hurt.
Luke doesn't want Andi to put herself at risk by going into the tree, because he doesn't want anything to happen to her.
Andi asks Luke if he'll lead the ceremony in healing the tree.
During the entire ceremony Andi is staring at Luke.
After the tree is healed Andi says Luke has a way with words. He then gets extremely nervous.
After getting their medals Andi quickly runs up to Luke and taps his arm asking to talk to him about something very important.
Luke says he still feels the same feelings for Andi when they first met.
Andi is staring and smiling at Luke during the entire conversation.
When Andi said something is missing, she was referring to not having Luke around.
Andi says "It's something I've wanted to try but was too afraid to do", meaning she's had a crush on Luke for long while and wanted to kiss him.
Andi reveals her true feelings towards Luke.
Andi leans in and kisses Luke.
Luke is smiling at Andi after they kiss.
Similarities and Differences
Similarities
They're are guardians in training.
They both have strong feelings for each other.
They both are protective of each other.
Both want to be Emma's Guardian.
They both are afraid of the dark.
They're both each others pet peeves.
They both are enemies with Ruby.
Differences
Luke comes from a long line of guardians to the Chosen One, while Andi does not.
Luke is a powerless wizard,  and Andi is a human.
Andi plays games like Zombie Apocalypse 3, while he does not.
Trivia
They become a couple in the finale It Must Be Magic (episode).
Luke thinks she is cute and has a beautiful smile.
Andi calls him Preppy. (as a nickname)
They both want to be the Chosen One's guardian.
Quotes
This information is currently unknown.
Songs
Round and Round - Selena Gomez
Heart Attack - Demi Lovato
Stutter - Maroon 5
Let It Rain - JoJo
Levels - Nick Jonas
She's Not Afraid - One Direction
I'm Into You - Jennifer Lopez
Glad You Came - The Wanted
State of Grace - Taylor Swift
You're So Beautiful (90s Version) - Empire Cast feat. Terrence Howard
Why Don't We Fall in Love - Amerie
I Found - Amber Run
Gallery
The image gallery for Landi may be viewed here.
References
Community content is available under
CC-BY-SA
unless otherwise noted.