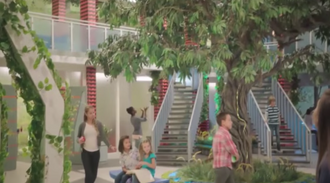 The Dyad Tree is the tree that grows throughout the academy. It starts in The Atrium, and then grows on.
In The Jinx, Ruby gets trapped by one of her WITS, Ethan, and finds a magical sap that gives her magical powers. She starts to look for the room with the sap, but she has to use The Hex to find it. She later finds the roots room and fills a jar with the tree sap. The leaves seem to fall from the tree when the sap is taken. When Ethan tries to cast a spell on the tree it absorbed some of his magic. It is revealed by Agamemnon that the tree connects the Magic Realm to the human world and if the tree dies it is catastrophic results such as end to all witches in the human world. In My Buddy from Orlando, Emma gets weird sparkles on her arm. Then Andi and Emma figure out that the Dyad Tree has something to do with the mysterious sparkles. Leopold Archer, Agamemnon, Andi, Luke, Jessie and Ben do a ritual to help replenish the Dyad Tree's health. In On Trial, Ethan is tele-transported into the roots room and tries to tele-transport out, but the tree absorbs some of his energy. In Cameron Rules, the Dyad Tree is seen rotting and dying. In It Must Be Magic, the tree is back to normal, after another ritual, by most of the Teachers and students.
Community content is available under
CC-BY-SA
unless otherwise noted.